Archive for September, 2007
(i thought you would appreciate the boys being "themselves"!)

sister,
i love you so much, and i'm so glad that we are so close………..you are my best friend. who knew that we would come so far? i thank God for you. you are such an amazing woman, sister, friend, mommy, and woman of God. i look up to you and your strength. your little family is SO blessed to have you, and so am i.
i hope you have an amazing day……….you deserve it!!!!!
love,
bethie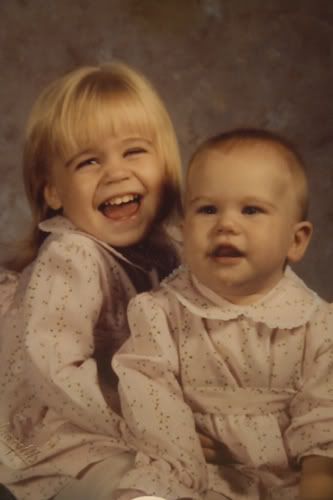 the beginning of the week brought rain and clouds.
i wasn't sure how i felt about it. i am ALWAYS excited for fall to come, but this year i had a little bit of anxiety about the coming season. maybe it was just the thought of being stuck in the house with two "lil' monsters" (i mean that with love) for months while the rain pours outside our windows. well, much to my excitement, the rain ended after a couple of days, and we have been left with amazing clear blue skies, and cold, crisp mornings and evenings. i have a renewed excitement for the next few months. and all that fall entails…..
tamar gave me the idea to write 10 things that i'm excited about for fall…….
so here goes:
1. sweaters and boots. this is my favorite season for clothes! i'm not a fan of summer fashions…..i don't even own a pair of shorts!!!!!
2. rosy cheeks. i love to bundle up the boys and go for morning walks, their little cheekers just look that much sweeter all flushed!
3. pumpkin. pumpkin everything. burgerville's pumpkin shakes. starbucks pumpkin spice lattes. pumpkin candles. pumpkin decorations. pumpkin bread, and cookies, and pie, and muffins, and………….
4. thanksgiving. we get to go to cali this year. i just love the family time that the holidays bring.
5. getting out all the blankets that have been put away for the winter. i love snuggling on the couch, with a book, under a warm blanket!!!
6. leaves. i love when the leaves fall off the tree in the frontyard. it makes for great pictures, and hours of fun for the boys. our whole neighborhood becomes a "fall" wonderland. i love the colors.
7. hats. i love getting out all the hats and gloves, and scarves. i'm not much of an "accesorizer" the rest of the year, but i love that it's necessary in the chilly weather!
plus, my boys look so cute in hats!
8. birthdays. starting next week (heather!!) we have a birthday almost every other week, until christmas!! i love to celebrate!
9. starting the process of making halloween costumes!
10. pumpkin……..
why don't all of you join in and make a list of your own!!!
this morning, my neighbor and i decided to get the kids dressed and head out to a location that eric had found, he though tthat it would be a great place to take some photos. i had seen it a few days ago, but i wanted ot try it out. our boys are SOOO into trains right now, so it seemed to be a great place for them. i had taken
eli's 2 1/2 year
photos at the same tracks about a three miles north, but this was a much better place. the boys were a bit excited and more interested in checking out their sorroundings, than looking into the camera. but i still managed to get quite a few great pictures.
i've been spending a lot of time lately focusing on my photography, and trying to catch up some. i've had a passion for it since my freshmen year, and i'm always surprised about how much there is still to learn. the world of photography is constantly evolving, and the few years i was side tracked, i feel will never be made up. this digital stuff i think will always feel
foriegn to me. there is something new around every corner, but the basic art never changes. there is just so much possible now, it's kind of overwhelming. when i shot film, i only shot in black and white, i never liked my results with color. now, i can't get enough of it. the bolder, the better. maybe that's a little insight into me, growing and changing, a little bolder, a little more color……so for now LOTS of COLOR, and in the future, who knows……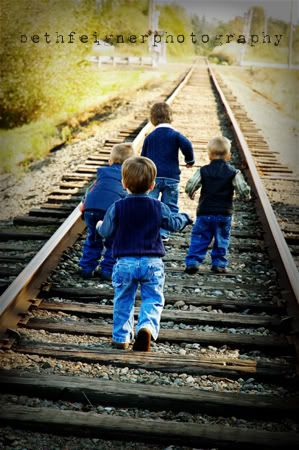 good thing i have so many beautiful subjects right in front of me……
beautiful, beautiful boys……..
i just was going through some pics from over the summer, and i came across this.
my dad is the best papa ever!!! he's also a great photographer………he just posted some new images on his
blog
. you have to check it out! don't be shy, leave a comment……. you can use
this
link, or there is one on my side bar:
my daddy's photography
!